Personalised duplicate invoice books are customised two parts NCR Books printed with your specific design and layout. They can have your business name, contact number, website, social media links and company logo. They can also have a custom table for your products and services and any other additional information required for your specific use case.
Let's talk about what we, at Bold Colours, believe are the key benefits of using personalised duplicate invoice books in your business.
A clean and coherent invoice solution.
Unlike the traditional carbon copy paper invoice that can result in uneven copies, and often, messy and unclear invoices, a duplicate invoice book will guarantee a much even result, a clear duplicate and easy to transport book without worry about losing carbon paper. NCR paper is also less prone to smudge and make your invoice look unprofessional.
Faster transaction and quick invoice delivery.
For most businesses, especially the ones operating as a service provider or in the construction industry, be able to make invoices on the fly is a requirement. With a custom layout and dedicated products and service table, filling the invoice can be much quicker and can offer a more clear result. Duplicate invoice books are still the primary choice for traders that are invoicing clients at their promises and requires a paper trail for the accounting.
Easy Accounting operation.
The main benefit of a duplicate invoice book is that makes it easier to keep organised records of your invoices. Managing invoices is one of the most important aspects of a business. If you want to keep your records well filed and up to date, having a personalised duplicate invoice book can make your life easier.
Boost your brand awareness.
Instead of using a generic invoice book having personalised duplicate invoice books will set your business apart from your competitor. For branding, the personalised invoice with your logo and business address will be like your professional business card. It can boost customer engagement and set a professional tone for your business.
A personalised invoice gives a good impression on new customers and helps to promote repeating orders and customer loyalty. By adding a website and social media links a custom invoice template can boost your online visibility, giving you a better chance to increase your exposure.
Mobility and accessibility without a computer.
If your business is trading in different locations and your employees are working on the field most of the time having a personalised invoice book giving your business the ability to produce invoices on the spot, without losing professionalist. With the invoice book always ready with you on your intervention, the invoice can be filled and delivered to the customer as soon as the job is completed, avoiding the client waiting for the invoice to be mailed.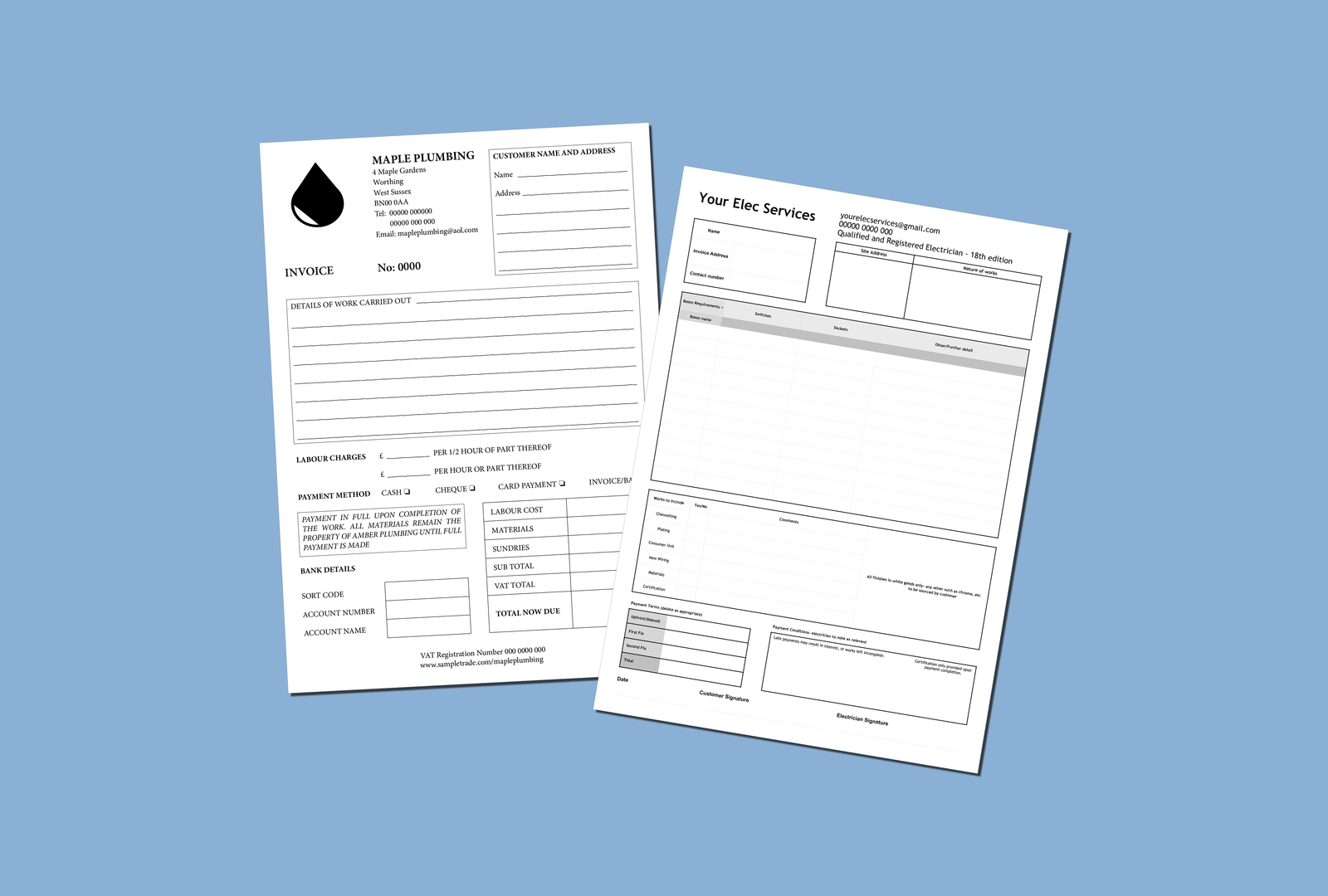 Build a more professional business image.
Keeping your logo and corporate brand prominent and consistent across all your business printing will make your business appear more professional and trustworthy. Old and new customers will easily recognise your invoice if branded making your business stand out from more anonymous competitors. You can impress your clients with a well organised and easy to read branded invoice.
Improve Business Relationship.
A personalised duplicate invoice book can help to keep records or specific information about your products or services like locations, departments and so on, make it easier to identify solutions in case of an issue arises. On the other hand, it helps to reduce confusion as customers will appreciate a great level of details of your personalised invoice by having all the additional information in one comprehensive paper trail.
Made bespoke for your business needs
When you use personalised duplicate books you know you are using the perfect tool for the job. By choosing the size, the information to store in it, the format, the invoice will be exactly what your business needs. The custom layout can speed up the invoicing process by incorporating some information in the layout that otherwise will require to be written any single time in a generic invoice book.
Make your company stand out from the crowd
If you are operating in a competitive industry, having a personalised duplicate invoice book can make your company stand out from your competitors, this is particularly true for new businesses and start-ups that can enter the market and make a better impact when their invoice is branded rather than a using a generic one.
Personalised duplicate invoice books for your business.
At Bold Colours we are NCR printing specialists, we help to design and print custom two parts NCR Books for any business type, size and industry, if you are looking for a professional printing company to help you to step up your game feel free to hit the NRC Printing order page.